Sniper: Ghost Warrior 3 is a sequel to Sniper: Ghost Warrior 2. It has changed gameplay style now taking an open world approach for missions to be completed.
The game takes place in modern-day with a series of conflicts between three hostile factions. A proxy war and a civil war in Georgia also begin. Players take control of an American Marine Captain, Jonathan "Jon" North, as he proceeds to Georgia to find and eliminate its intruder, with whom he shares a dark past, in order to prevent another Cold War.
Blockout - Mining Town / Flooded Estate
Cut Off - Mining Town / Radio Telescope Base
Two Birds - Mining Town / Gas Station (Mission 1)
Robert North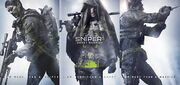 Primary Weapons (Sniper Rifles)
[
edit
|
edit source
]
XM-2015
Stronskiy 98
Knight 110
Archer T-80
BMT 03
Rook SS 97
ACC 50
Turret M96
ES-25
Brezatelya
Shipunov K96
Sharur 5.0
Vykop
Dragoon SVD
L115A3
Ballance S-AR Metal
Mcmillan Tac-338A (DLC)
Archer AR15
AKA-47
KT-R
Herstal
Galeforce Long
Giovanni M4
OFM 500
Origin-12
Sawn-off Shotgun
M1984
M1984 Pistol Rail
Garett M9
Wagram 21
MP-40 Grad
SLP .45
Herrvalt 99
SP M23
Bull 686
FOX Predator (Knife)
IXB Izofir (Knife)
US KA-ZAR (Knife)
Karambit (Knife)
Throwing Knife
Drone (Modifiable)
Thermal Vision Goggles
Night Vision Goggles
Frag Grenade
Smoke Grenade
Flash Grenade
Gas Grenade
Bouncing Betty Mine
C-4 explosive
Decoy Trap
Warning Device
Silencer Repair Kit
Adrenaline Pack
Pills
Medi-kit
The Escape Of Lydia (Expansion)
The Sabotage (Expansion)
Mcmillan Tac-338A (Primary Weapon)
Compound Bow (Secondary Weapon)
Canyon (Multiplayer Map)
Containers (Multiplayer Map)
Buggy (Vehicle)
Community content is available under
CC-BY-SA
unless otherwise noted.